K9 Medicinals® K9 Immunity™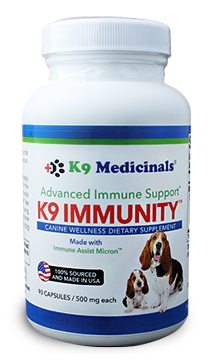 What is K9 Immunity
What is K9 Immunity™?
K9 Immunity™ is an immune-boosting daily supplement specifically formulated to help dogs boost their immunity. And to help dogs prevent serious illnesses like cancer.
How did my dog get cancer?
Every day, your dog replicates 100 million cells a day. Due to environmental factors and age, some cells become damaged during the replication process. When your dog's immune system is strong, their body recognises healthy cells from damaged ones and rids the damaged cells before they can cause health issues.
But when your dog's immune system weakens, their body doesn't recognise the damaged calls and lets them continue growing freely. This is when cancer and other serious illnesses occur.
Proprietary immune-strengthening technology
The largest class of anti-cancer drugs used in the world today is a class called heteroopolysaccharide immunomodulators
.
K9 Immunity™ products are made from the most technologically advanced immunomodulator in the world. It's called Immune Assist Micron™.
How this benefits your canine companion:
• 100% bioavailable (absorption rate) for better results – brewers yeast beta glucans average 5-10% bioavailability.
• Activates ALL 260 different classes of immune cells – including natural killer cells, T-cells, and macrophages. Simple beta glucans only activate a few.
• Does not create any additional stress on the body while activating healing mechanisms.
• Supports regulatory functions and critical body systems including the nervous, hormonal, and immune systems.
Patented formula provides noticeable results
In addition to our proprietary Immune Assist Micron™ technology, K9 Immunity™ also contains:
• All three of the most widely used anti-cancer compounds worldwide (for humans and dogs): PSK, PSP and Lentinan.
• Nearly 200 additional immune-strengthening compounds called hetropolysaccharides
Recommended Daily Use
One capsule per ten pounds (5kg) of body weight daily. Or as recommended by your veterinarian. Capsule should be taken with food.
For maximum support, see our newest formula: K9medicinals Immune Support/Armor Up.
FAQ

Where can I get these and how much is K9 Immunity